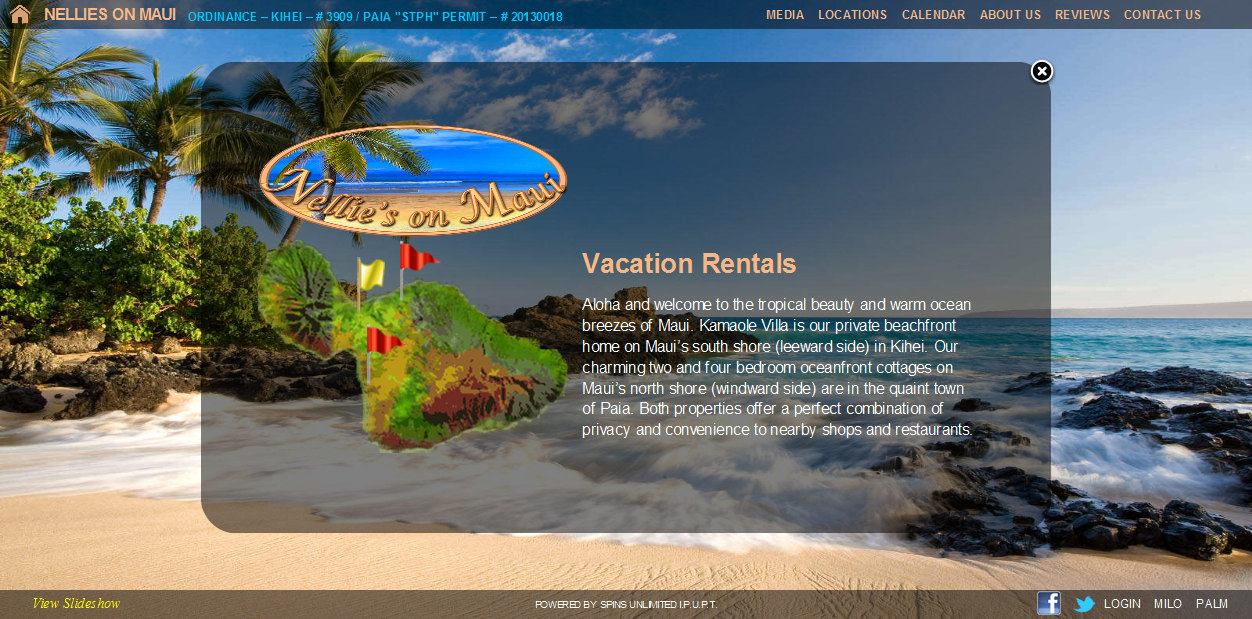 Nellie's On Maui:
We are updating platform and making 100% responsive. Aloha and welcome to the tropical beauty and warm ocean breezes of Maui. Kamaole Villa is our private beachfront home on Maui's south shore (leeward side) in Kihei. Our charming two and four bedroom oceanfront cottages on Maui's north shore (windward side) are in the quaint town of Paia. Both properties offer a perfect combination of privacy and convenience to nearby shops and restaurants.
www.nelliesonmaui.com
Clients Raves
Wednesday, 12 February 2014 18:18
Written by siteadmin
0 Comments
Raves 1
Tuesday, 11 February 2014 22:18
Written by siteadmin
0 Comments
Angie Peters
Tuesday, 11 February 2014 21:52
Written by siteadmin
0 Comments
Jill Marie
Tuesday, 11 February 2014 21:49
Written by siteadmin
0 Comments
"I wanted to give you a call a little later, but we wanted to send you a quick note to thank you so much for the updated virtual tour and still photos! They are AMAZING! We are thrilled at how clear and beautiful they turned out. Each photo truly captured the spa and the vision we want to portray!"
http://www.spinsunlimited.com/skinsanctuary/977/mega/
Jill Marie – Owner of Skin Sanctuary
Myles Kawakami
Tuesday, 11 February 2014 21:48
Written by siteadmin
0 Comments
"Very unique and interesting addition to enhance websites that viewers will find interesting and stay on our website longer… I endorse him fully."
www.hcomaui.com
Myles Kawakami – President HCD Corp. dba Hawaiian Carpet One, Hawaiian Ceramic Tile
Christine Anderson
Tuesday, 11 February 2014 21:46
Written by siteadmin
0 Comments
"Dear, Spins Unlimited Hawaii, David and Jency, I have worked with you and your staff for years now, on my first website site(* 1st quote at bottom of page) and now on my second web site. I was concerned when you moved from the bay area to Hawaii that I would not feel close enough for you to help my business. As I have grown and you have created my new website
www.sfbeachstreetgrill.com 
 and it has proven for months that you are as close as you need to be.  Your always a call away even when you are busy, but thank you for always being available for me. I am very excited about the new revenue the website is generating. You took over my S.E.O. and for what I pay I expected a lot from your company and have received so much more than I ever expected. You really stepped it up for me and my staff. This experience has made me a better business owner and San Francisco Beach Street Grill a very busy restaurant. You could not have done better defining who we are and what I wanted to accomplish. People are very aware of what we offer now and I am very happy with you and all that you do for me. Great job!!!!"
Christine Anderson – Owner of San Francisco Beach Street Grill
Joy Nelson
Tuesday, 11 February 2014 21:45
Written by siteadmin
0 Comments
Hi Jency and David, We are so excited that the website is complete and we all love it and agree that it looks beautiful and it has everything we wanted in it. We love the virtual tours and appreciate your willingness to redo as necessary for the weather and really wanting to get the better shot.  The training session went well. 
Christine L.
Tuesday, 11 February 2014 21:42
Written by siteadmin
0 Comments
Christine L. Lead Processor
"The Spins Unlimited Hawaii I.P.U.P.T. have an innovative virtual tour social media platform solution drives the end users who are treated to a virtual social playground. Companies like Ripley's Believe It or Not! Museum, Hale Hoomana, Nellie's On The Beach Maui, Wild Birds Unlimited Inc., Beach Hut Deli, Hawaiian Carpet One, Hawaiian Ceramic Tile and many more… find the platform easy to use and effective! The leverage and uniqueness the Spins Unlimited Hawaii I.P.U.P.T. platform offers are amazing and excellent!"
Tiffany Powell
Tuesday, 11 February 2014 21:40
Written by siteadmin
0 Comments
"
valleyisledayspa.homestead.com/
Tiffany Powell – Owner of Valley Isle Day Spa
"Have you checked out the spa's ranking? 
Jeana Naluai
Tuesday, 11 February 2014 21:38
Written by siteadmin
0 Comments
"We love the site background you created until the new website is done.  I want to personally thank you both David and Jency for all your efforts in making the transition over to your company with the websites so smooth. It has been hard work getting to this point in the past with other company so thank you and we are so excited to work with you. Thank you both for your care and openness in making this happen for me and for the team here at Hale Hoomana."
Garrett W. Marrero
Tuesday, 11 February 2014 21:36
Written by siteadmin
0 Comments
"Aloha guys, first off, great job on the site. We love it and really look forward to the response from our customers. Mahalo for the quick turnaround Dave!" 
Gayle Davis
Tuesday, 11 February 2014 21:07
Written by siteadmin
0 Comments
"As manager of Kokopelli's Cave B&B located in Farmington, NM I just want to say that my experience of working with David and Jency Snyder of Spins Unlimited Hawaii has been great! Since we started working on the website for the Cave, he has been such a help through the entire process. I knew nothing about setting up a website much less implementing it and the process has been so user friendly and knowing that David was there any time I had a problem or question sure eased my anxiety! He was so patient with me and hung in there until I finally got it. Even though we are miles apart and 4 hours difference in time zones, he has always been there when I needed him. Thank you and I am so glad we chose Spins Unlimited Hawaii."
PPC Marketing
Tuesday, 11 February 2014 19:04
Written by siteadmin
0 Comments
What Is PPC (Pay Per Click) Marketing?


It is important that business owners learn how to improve their profit margins because the main objective of venturing into any form of business is to make a profit. One of the ways is by engaging in pay per click marketing. Although the words might sound a little bit complicated, it is a relatively easy topic to understand.

It refers to the use of search engines to generate targeted traffic which in turn is directed towards a given website or a sales page. It would however be good to note that as the key phrase would suggest, one actually has to pay the respective search engine(s) so as to gain access to their services. Below are the steps that anyone can follow when planning to move forward with this form of internet marketing.

You register as an advertiser with the respective search engine(s) that you wish to use. You cannot advertise without first opening an advertiser account with the respective search engine(s). You will also be required to deposit some money into your account which you will use to pay for your advertising.

You research the keywords that you wish to use in your marketing campaign. If you are selling digital products that teach people how to make money online then you might consider having "make money online" as one of your targeted keyword phrase. One of the best ways to come up with the right keywords for your campaign(s) is to research them using keyword tools like Google AdWords keyword tool. This will give you an approximation as to how many people search for a given set of words/topic and this can be of great benefit to your campaign.

You bid for your chosen keywords. This stage involves bidding on the amount of money that you are willing to pay for every click. This is because pay per click marketing as the name suggests involves paying a given amount of money for every click that your advertisement receives. It would be worthwhile to mention that the bid price is highly dependent on the type of keyword(s) that you choose i.e. keywords with a high competition will normally have a higher bidding price as compared to keywords with a low competition.

When you finish up then you will need to ensure that the title and description of your advertisements are captivating so as to attract clicks.

You activate and monitor your campaign and then the final step involves keeping an eye on its performance i.e. the conversions.

If you for some reason feel that pay per click marketing may be too much for you, then there is always the option of hiring us an established and knowledgeable internet marketing firm. Give us a call today!
Social Networking Software
Tuesday, 11 February 2014 19:02
Written by siteadmin
0 Comments
Spins Unlimited I.P.U.P.T. Social Networking Software


is operated by a group of talented web designers and professionals who specialize in delivering a valuable online experience for users of all different areas of the internet including social networking sites and blogs. We offer a great level of service with a dedicated management team supported by our designers, developers, solution engineers and project managers.

Social networking and social media marketing helps websites gain traffic using various marketing options. With social media sites like Facebook, Twitter, LinkedIn, and Google Plus being an easily accessible platform, we are able to attract bulk customer traffic by utilizing various skills of interactive marketing. As a result our clients have been extremely satisfied which has earned us a great name in the field of social media marketing.


Search Engine Optimization
Tuesday, 11 February 2014 18:22
Written by siteadmin
0 Comments
How Does Website Optimization Work?
Web optimization is the most important factor in getting people to your site. More clicks means more viewers, which leads to more sales both in advertising and of your product. In order to optimize your website many different factors must be considered which include both on-site and off-site techniques. On-site optimization refers to the tools that are designed explicitly for your web page. An error-free code is part of this process and is important in avoiding issues related to ranking or having broken links. Others include keyword density, utilizing relevant information for your products and services, and enlisting a good design. Implementing navigational tools such as site maps, menus, tags, and headers are also very important and allow the viewer a seamless experience. Appearance and first impression are everything and the longer the viewer stays on the page, the more clicks they make or products they buy! If you're serious about creating consumers do not neglect this important step. Off-site web optimization involves the "behind-the-scenes" work that can be done to support your website and boost your search engine ranking regularly. Back-links, which are similar to votes, include recommendations and people spreading the word about your site and product. The more recommendations you have the better and the more your name is out there the more people are going to be interested in your company. Social networking on platforms like Twitter, Facebook, LinkedIn and Google Plus help generate traffic to your website which lead to sales, more article submissions, blog posts, directory submissions into even more social networks, like Google Local.
Ingredients of SEO: Meta Elements and Keyword Density
The internet has profoundly impacted the accessibility and availability of information and products. While a lot of it is very useful to readers and consumers, an increasing amount has also been written solely for Search Engine Optimization, a very important frame of reference for internet users. SEO is an excellent tool (if you know how to use it) for building web pages and writing content so that your website will be at the top of major search engines. A Search Engine Optimizer refers to a person or company who offers SEO as a service. To better understand what this entails the following is a list of key terms that are most important to build your SEO ranking
Search Engine Optimization
When someone wants to find information about a chosen topic, one would likely use the internet to find this data. Even if this person knows the exact website address, they often type part of the website address into a search engine like Google, Yahoo, MSN, Bing or Ask. Almost instantly, search results and several selections will be displayed. So what website is listed first and why is it listed first? Why was this website not first 2 months ago when the user searched for it the first time? The answer is SEO, an intelligent approach to building web pages and writing content for them so that the major search engines can easily find them and show them to the internet user. If a user searches for Hawaiian vacation they will likely see different results than if he searches for travel to Hawaii. The reason for this is that an important aspect of SEO involves which particular keyword has been written in the meta elements and within the content of the web page itself. Meta Elements in SEO are so important in this process. A meta element shapes the function and ability of a web page. There are meta elements that allow a certain page to be found by search engines, there is a meta element that tells search engines what language the website is in and there is a meta element that gives a brief description of what kind of information the web page gives. All of these things are coded into the web page by a website designer SEO consultant and users cannot see them when they visit a particular website. Some of the most important meta elements are the description and the SEO keywords that are written within. If someone has put up a website dedicated to something with minor interest like a local landmark or building, just having the name of the landmark in the meta description should allow the site to appear on the first page of Google's search results. However, if someone is trying to put up a website in a very competitive market like weight loss tips, just having these keywords in the description will probably not be enough. Proper SEO strategies must then be implemented.
Why should you choose Spins Unlimited I.P.U.P.T. for your SEO campaign?
We are the experts and have been providing web optimization for many years and have an outstanding track record. We are a team of more than 14 talented and dedicated industry professionals to ensure that our clients are treated with the greatest level of service which is our utmost priority. With years of experience creating great outcomes, we strive to be the best! How can we help your business get better ranking today?
What about the cost?
Our website optimization services are situation dependent and are determined by the industry and number of keywords we are optimizing. For example, some keywords are more competitive than others and certain companies want to be locally featured while others are focused on national or international rankings. We can help accommodate all budgets regardless of your business type and offer various package options to suit your personal needs! Call us to get you SEO campaign started today!
Choose a Package & Any Additions – Provide your URL, we will take care of the rest!
S.E.O. Standard
$399/per month
Keyword Research
6 Key Phrases
65 Directory Submissions
10 Press Releases
20 Article Marketing
S.E.O. Deluxe
$599/per month
Keyword Research
8 Key Phrases
120 Directory Submissions
30 Press Releases
30 Article Marketing
Booking Manager
SEO Premium
$899/per month
Keyword Research
8 Key Phrases
300 Directory Submissions
50 Press Releases
30 Article Marketing
DMOZ Submission
1 Squidoos & 1 Hubpages
Booking Manager w/ 1 Channels
Tracking system
Most Popular
SEO Premium Gold
$1490/per month
Keyword Research
12 Key Phrases
60 Sub-Phrases
80 Unique Social Bookmarking
400 Directory Submissions
4x30 Press Release
4x30 Article Marketing
DMOZ Submission
2 Squidoos & 2 Hubpages
Booking Manager w/ up to 4 Channels
Tracking system
The Importance of Branding
Tuesday, 11 February 2014 18:08
Written by siteadmin
0 Comments
The Importance of Branding!
Differentiating your business is very important. This is where branding your business helps you stand out. The business world has in recent times witnessed a myriad of changes in it's landscape. There are a number of reasons to explain the contributing factors for the rate at which technology is changing. In recent times the advancements of technology through the Smart phones and Tablets has completely altered the manner in which business is done.  Given the increased channels that consumers have at the palm of their hands they are now able to access information more easily. Furthermore, it is easier for them to find information on their own rather than relying on second hand information or even advertisements and billboards. Branding loosely refers to the name, symbol, term, sign, design or a combination of any of the above that help a potential consumer to identify and differentiate between the products and services of a particular business from those of another. Given the many channels of information available, it is important for a business to leverage on the growth and boom that has been witnessed in technology in an effort to grow their brand. Given the numerous channels and the speed at which information spreads in the wake of such media as Facebook and trending topics on Twitter, it is easy for a business's brand to be irrelevant to the events and happenings of the current time.
The importance of branding in business cannot be underscored. A business brand is important because it sets apart the business from it's competitors. For loyal clientele of a business, branding helps cement and aggregates the number of people who use certain goods and services. In this way, you are guaranteed a customer base as they are in a position to identify and tell the products apart from other counterfeit products. Branding will also ensure that a customer asks for your product/service specifically rather than a generic name.
The process of coming up with a brand is an introspective process that captures the objectives of the business, its mission and its goals. Furthermore, a deep understanding of public needs and wants is factored in such a way that the brand is carried to heart by the consumers, clients and even potential clients.
The increased channels of communication have taken the battle for consumers to uncharted territory. The battle lines have been drawn and the business with the most interactive and strongest brand is set to win. It is important for a brand to be simple, clear and concise without losing its uniqueness. It should be so because a strong brand helps motivate a client. In most occasions clients do not know what they want until they see it. Once they have spotted the product or service, the brand should to be the final icing on the cake that encourages them to buy or use the service. In conclusion, a brand is very important as it helps cement a business's presence in that it is a proof of credibility. Take a closer look at some of clients we have helped with 
branding strategies
.
Hosting & Registration
Tuesday, 11 February 2014 17:39
Written by siteadmin
0 Comments
Hosting & Registration
Spins Unlimited I.P.U.P.T. offers you great products, impressive solutions, and outstanding customer service. But, that is not all. We are the next level up from many web providers who could offer you hosting or registration. The difference is in support and our monthly management service is something you do not want to be without. The tools we provide you with include:
Web hosting in a top-tier facility with high-volume bandwidth.
Regular software updates to keep your site running smoothly.
Stringent security with updates to keep the bad guys out.
Web analytic-s to track statistics. (Great for marketing departments.)
IT monitoring and support of integrated applications.
99.9 percent website up-time.
Website application design, programming, testing, and deployment.
HTML, CSS, Text edits, graphic design, flash, navigation changes, and enhancements.
Backend programming.
Database look-ups and development modifications.
Technology research.
Solutions architecture.
Setup your web hosting here!
Database Solution
Tuesday, 11 February 2014 17:33
Written by siteadmin
0 Comments
Spins Unlimited I.P.U.P.T.'s web development team is especially proud to offer our expertise in database solutions, which integrate smoothly and seamlessly into your website. Along with met expectations of ease, professionalism, and quality, we ensure that our database solutions will synthesize with your IT systems and protect your data with trusted security.
e-Commerce
Tuesday, 11 February 2014 17:27
Written by siteadmin
0 Comments
We are e-Commerce experts in Joomla, WordPress, Drupal, Magento, Open Cart, Zen Cart and more! Your e-Commerce and shopping cart systems will help determine the effectiveness and success of your online conversions, which will indicate the company's sales and productivity. An effective e-Commerce website includes:
A consumer-based and user-friendly shopping cart for compelling product presentation.
Management of customer data to ensure privacy of information and effective marketing.
Organizational tools including: shipping; tracking orders; payment; customer support; recurring billing; inventory management; and the availability of multiple languages and currencies.
An easy to use system for updates of product images, descriptions, and promotions.
Detailed reports showing customer behavior and sale opportunities.
Having top level security and real time tracking is a must and we provide all of our custom software for you.
Web Design & Development
Tuesday, 11 February 2014 17:13
Written by siteadmin
0 Comments
Web design by nature is a creative process that is boundless in opportunity. If done well, it has the potential to structure and express a company's brand in a form that is both innovative and sharp. However, to be successful in this endeavor, business leaders must choose the right web design partner. Many industry leaders who want to excel and strengthen their companies turn to Spins Unlimited I.P.U.P.T. for leading-edge web design and applications. Regardless of the organization's size, we can help you create a strong web presence and increase your traffic. Our web application development specialists are willing and knowledgeable to work with you on projects of all complexities and objectives. Throughout the web application development process, you will receive feedback at several stages from your key staff members. We will also offer professional training and support to help you maximize your organization's return on investment (ROI) and help you realize the benefits of streamlining your business processes. Although proper branding is essential, Spins Unlimited I.P.U.P.T. will also take time to learn about and appreciate the challenges you face in your specific industry and the solutions you seek. We understand the importance and depth of every element that is required for a powerful online presence. From presentation to functionality, we are here to help.

Video Stream
Thursday, 14 November 2013 18:08
Written by siteadmin
0 Comments
Live Stream
Thursday, 14 November 2013 18:07
Written by siteadmin
0 Comments
Spins Unlimited
Thursday, 14 November 2013 17:42
Written by siteadmin
0 Comments